When you think about painting your home, it can be a daunting task if not done correctly. You may want to take the next long weekend and start painting, but more often than not this turns into several tedious weeks of work because there are many factors that need attention before starting such as priming or power washing walls depending on the surface of your house. We've laid out some of the most common factors to look out for when estimating how long it will take to paint your house, as well as some extra things to consider if you are painting your home's exterior or interior.
DIY House painting projects, can take between 2-4 weeks depending on experience, and the scope of the work. Depending on the height and complexity of your home it can also be dangerous.
As a local Brisbane painter with over 20 years experience, Array of Colour can usually complete a typical painting job within 1 week. The only time you need to spend is choosing a paint colour! We will come in as a team and methodically work our way through your property, as we know exactly what to do for every painting situation and have completed thousands of similar jobs!
Professional painters will plan the project and sequence the job making it an easy process. Often DIY projects take far longer to complete because of the amount of preparation it takes to achieve the same stunning results an experienced painting team can.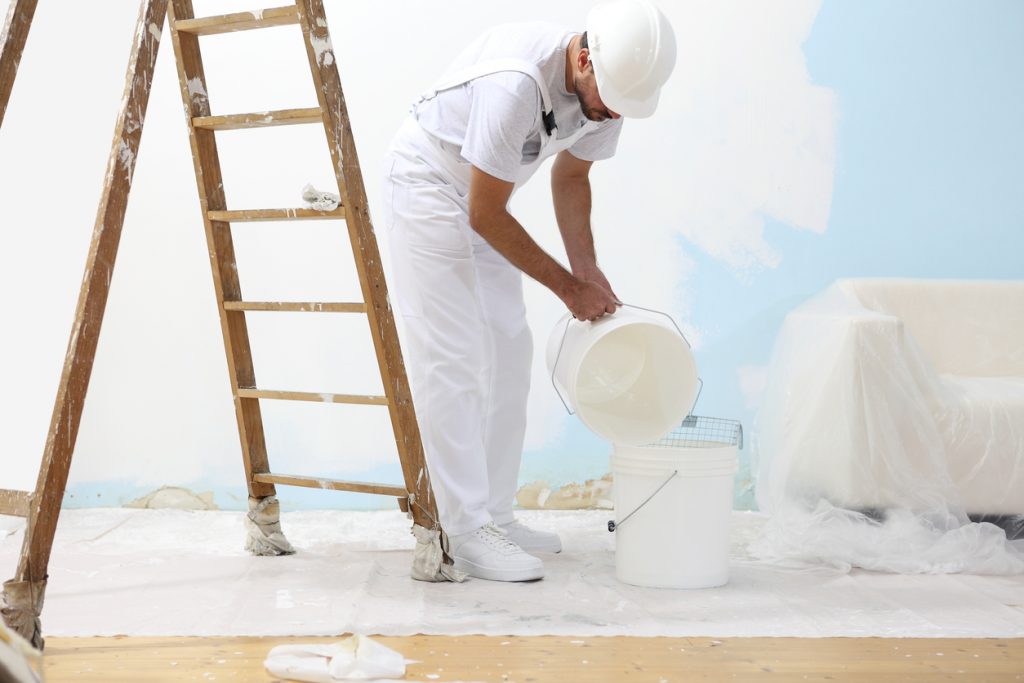 Factors That Affect How Long It Takes To Paint A House
The size of the building
This might be obvious but the size of the building, makes a big impact on how long it takes to paint your property. If you have large rooms, rather than many smaller rooms it will be faster for our team, as we don't have to pack up and move to a new room as often.
Do you need Multiple Coats of Paint or just a touch up?
If you're just applying one coat of paint to your property this won't take as long as having to prime your walls and then apply multiple coats of paint. Some types of paint (especially the lighter colours) can take multiple coats to achieve the desired look. We recommend consulting with your painting expert to find out.
The Condition of the surfaces
Preparation is the key to achieving flawless results and if surfaces are not cleaned or prepared correctly, then their imperfections will often be revealed in your final coat of paint. It takes time for this process which can take up most (if not all) on a painter's day; filling cracks with mortar & sanding walls until they're smooth enough so as NOT expose any dirt residue from previous tenants or owners.
Making sure preparation is done correctly is key to getting an exceptional paint result.
Painting Experience
Professional mechanics can service a car in 20 minutes, as they have done it 1000's of times before. It might take you several hours of Googling and toiling to do the same thing. A professional team can produce immaculate results that would take you five times longer to achieve. So, if you're time poor or would rather spend it on the beach it's probably best to call in the pros.
The Weather
Rain, heat, snow and humidity all affect the drying time of the paint and the time it takes to paint a home.
Inconsistent rain can also affect the timeline of when you can complete your exterior house painting.
Want more info? Check out our 5 Tips For How To Paint After Rain!
How Long Does It Take to Paint a House's Exterior?
We understand how important it is for your exterior house painting jobs to be completed as fast as possible. We know how it can be a pain not to be able to properly access your home or office. That's why we are committed to finishing your exterior house painting job efficiently. 
When it comes to completing house painting work there are many factors that can impact the time it takes to complete a house painting job in Brisbane. These include the factors discussed above:
The size of of the area that needs to be painted
The condition of the surface we're painting.
The weather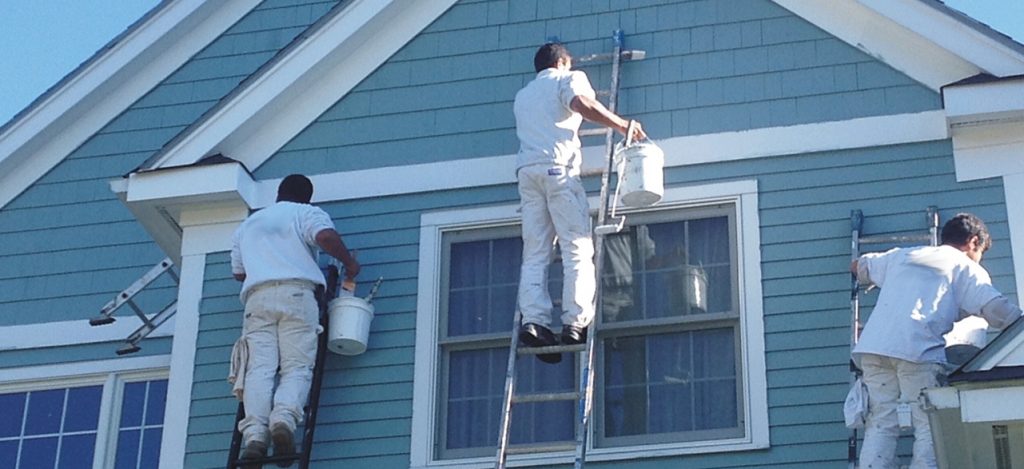 Washing and Preparing Your Property
An important piece of the prep work will be power washing your siding. This step is crucial because it provides the best base for fresh paint to adhere. Clean siding will also extend the life of your paint job. A lot of homeowners prefer to do this on their own. However, if you think you'll need help, you can leave this part of the process to the experts!
Woodwork and Weatherboard Homes
Is your property severely run down? You might want to consider checking if any of your weatherboards are split or rotten. If it's not fixed, it will continue to rot, and your paint job will go to waste. You'll want to organise a carpenter to replace your rotten wood. Any money you spend on painting your property will be wasted, when the structure of your home continues to worsen.
Weatherboard homes are typically more complicated than a standard brick house and take longer to properly prepare, depending on whether your expert painter decides to sand or power wash your property during the preparation stage. Weatherboard homes typically have more coats as well.
Interior House Painting: How Long Does it Take to Paint a House?
If you're making plans to do some interior house painting, you're probably wondering how long it will take to paint a house.
The answer is: it varies.
There are many factors to consider that will impact the time it takes to prepare, paint, and dry your interior
How Long Does Interior Painting Take On Average
When painting a medium sized bedroom, it should take around four or five hours to complete. This includes prepping the surface and taping edges as well as covering floor in preparation for your primer coat of paint! If you want trims done too then add an extra one hour for that task alone- dependant on how picky you are about accuracy vs speed.
Of course, this is just a rough guide. You could probably paint a whole bedroom in an hour if you rushed, or eight hours if you really took your time.
Five Factors to Consider
Let's go into a bit more detail about the different factors that will determine how long it will take you to complete your interior house painting.
1. How Big the Room Is
This is an obvious one. The bigger the room, the longer it will take to paint. If you're painting multiple rooms, keep in mind that the larger rooms will need more attention.
2. How Many Coats of Paint you will Need
Usually, two coats of paint are needed to achieve a professional finish. That being said, if you're covering a dark colour with a light colour, you may need extra coats.
The Standard Painting Process
1. Preparing the Job Site – Day 1
Preparation can be a long process depending on how long it has been since your property was first painted. Preparing your property involves removing flaky paint, filling cracks, sanding down walls, eaves or skirting birds. The cleaning process involves pressure washing surfaces, cleaning with sugar soap and removing any dirty build up. During this time remove your furniture, or wrap all of your furniture, protect and tape the floors, window frames, carpets and tiles. It's a long process!
Even something that seams as simple as painting can take hours, for example removing blinds and window rails can sometimes take up to a full day! Professional painters such as Array of Colour already have the tools and experience to get the job done efficiently. We have done painting jobs thousands of time before, so we have a good system and methodology for delivering exceptional results for our customers with minimal disruption and quickly.
2. Painting – Day 2-3
Whether you're a first-time home painter or an expert, there are many factors that can determine the quality and durability of your paint job. Paint needs to be carefully applied for it to last a long time and have a perfect finish. It's also important to choose the correct brand and type of paint for the surface. A professional house painter has all necessary tools for carefully applied paints with techniques which will make it feel like new construction in no time at all!
You would be surprised at how much the materials will cost. A trip to Bunnings for sandpaper, cloths, paint, primer, sugar soap, tape, tarp, brushes and trays all these expenses could be invested in getting an experienced team that can get the job done well. It's really an investment into your property that will not only protect your home but help increase the value of your asset.
During the painting process our team will use a variety of different painting materials. Items such as: sandpaper, cloths, paint, primer, sugar soap, tape, tarp, brushes and trays. A trip to Bunnings to buy all of those materials and equipment can cost a significant amount of money! Our team has access to account pricing for most of these materials (so you get a great price) and we can re-use a lot of the material on different jobs allowing us to provide you with a competitive price, instead of you having to buy equipment to only be used once (if you're going the DIY route).
3. Clean Up – Day 6-7
Finally, there will be time dedicated to cleaning up, packing away painting supplies, removing tape, re mounting blinds and window rails and disposing of used materials.
At Array of Colour we strive to leave leave your property in a better state then when we left it.
This involves cleaning up, packing away painting supplies, removing tape, re mounting blinds and window rails and disposing of any waste.
While this is a rough guide to how long it should take to paint a 3-4-bedroom home, you could probably paint a whole bedroom in an hour if you rushed, or 2 days if you really took your time. While we say it can take 3-4 days to paint an average 3-4-bedroom home you will need to consider all the above factors.
Start by getting an obligation free quote in 24 hours and once you have all the facts, you will know the advantages and disadvantage of hiring a professional painter and can compare the costs in order to make a decision of whether you should paint your home professionally.